GO BACK
Train from Leshan to Chegndu
Time:&nbsp24th&nbspJuly, 20170pan>
A-- for Leshan
B-- for Chengdu
Leshan station was opened on December 20, 2014 with a Chengmianle passenger transport line, launch inter-city trains to Chengdu, Mianyang, Jiangyou, and Mount Emei. After the project has been completed, it is of great significance of integrating Leshan into Chengdu half an hour living circle and economic circle, speeding up the construction of circular tourism economy of Chengdu, Leshan, Mianyang and Deyang, nowadays, take a train from Leshan to Chengdu needs only 1 hour or so.

Since then, traveling from Leshan to Chengdu or vice versa only takes 1 hour or so, which is convenient than before because the nearest train station is Emei Station which is 31 km from Leshan city in the past.
The first character of train number has special meanings.
G–High-Speed Train
C–Intercity EMU Train
D–Electric Multiple Units (EMU) Train
Z–Direct Express Train
T–Express Train
K–Fast Train
Four-digit Number Train - Regular Speed Train
L–Temporary Train
---
Leshan to Chengdu Intercity EMU Train Schedule
Departure Station: Leshan Station
Arrival Station: Chengdu East Railway Station or Chengdu South Railway Station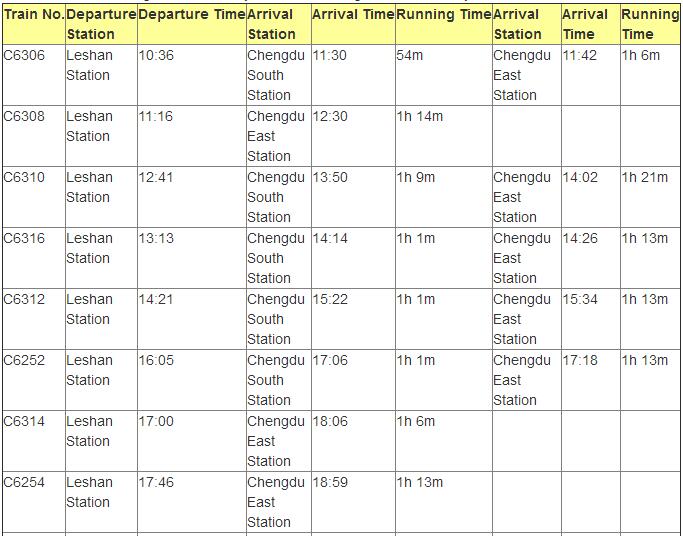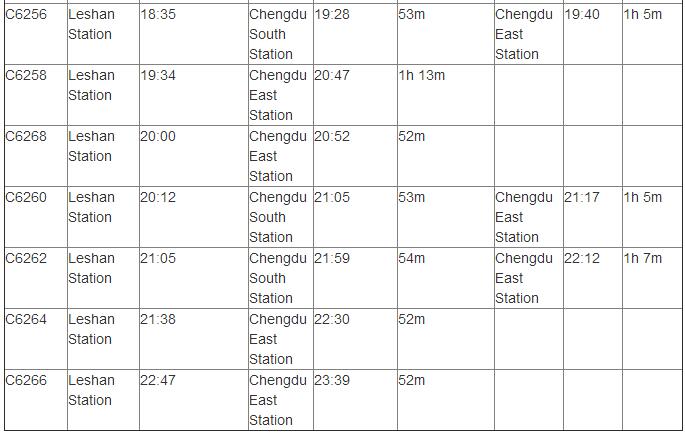 Chengdu to Leshan Intercity EMU Train Schedule
Departure Station: Chengdu East Railway Station
Arrival Station: Leshan Station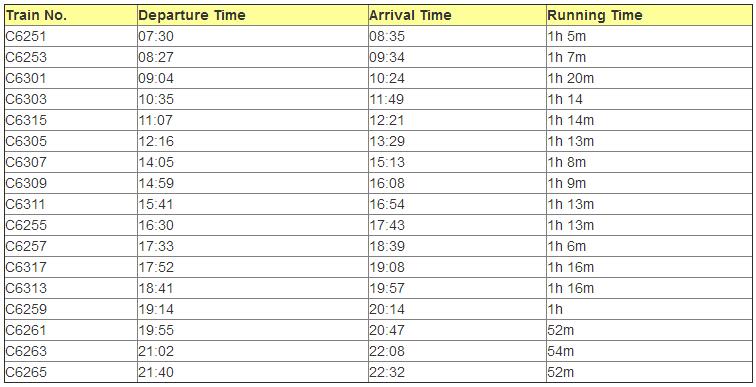 Departure Station: Chengdu Soutn Railway Station
Arrival Station: Leshan Station

Attentions: Train Schedule of Leshan to Chengdu or reverse is for your reference only. Please check the ticket information including the tickets fares at the railway station or by your TCT tour advisors separately.
---
Notes For Booking Train Tickets:
1. Booking an original train is easier than booking a passing-by train. You can book a train ticket 10 days in advance at most. Above train schedule and fares are just for your reference, while they may change over time, you need to check them again.

2. Generally, the seats on the train in China have tow types including soft seat and hard seat. Also, there are tow kinds of sleeper seats on China's trains which are hard sleeper seat and soft sleeper seat. Hard sleeper seats are divided into upper hard sleeper, middle hard sleeper and lower hard sleeper (lower hard sleeper is the best); while soft sleeper seats are divided into upper soft sleeper and lower soft sleeper (lower soft sleeper is better).

3. In China, taking a train is a comparative cheaper way to cut down the travel cost. While correspondingly, the comfortable level is lower than by air.
Luggage: you need to take the luggages by yourself and keep an eye of them on transporting time, no luggage-checking service on the train
Carriage: it may be crowded when in the domestic travel seasons as well as summer holidays.